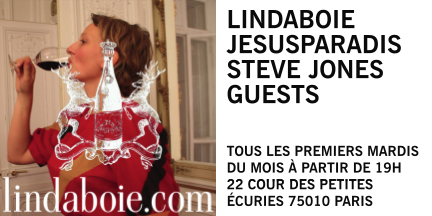 Tous les premiers mardis du mois, rendez-vous chez JesusParadis, avec Lindaboie et Steve Jones & Guests. .
Où : 22, cour des Petites Ecuries 75010 Paris

Quand : A partir de 20h00
Quoi ?  : Au programme, les vins  de goût de Lindaboie , la  musique  de goût de Steve Jones qui invitera des musiciens de goût pour l'accompagner. Mais aussi, la délicatesse de Jesus Borges, la joliesse pleine de goût de JesusParadis, ses cocktails  et  ses tapas goûteux.

Le restaurant Jésus Paradis se situe dans le 10e arrondissement de Paris. DR Express Style
Une divine apparition au bout de cette cour miraculeuse. Derrière une façade virginale se cache ce jardin d'hédonisme, noir et blanc, bardé d'un grand comptoir et parsemé de fauteuils dépareillés.
Au déjeuner, l'ardoise est une petite bénédiction avec d'aimables rillettes de crabe, un poulet juteux à l'orange et à la crème de maïs. Redoutable, le filet de morue escorté de fenouils, poivrons et oignons, sans oublier la mousse d'avocat, un dessert qui se défend plutôt très bien. Et dire que la formule tient dans 15 euros, ce paradis-là frise la planque fiscale.
Cocktails et tapas sud-américains
Côté calice, on verse jusqu'à la lie un pouilly-fumé de Jonathan Pabiot (24 euros) ou un coteaux-du-languedoc du domaine d'Aupilhac (21 euros). Le soir, on tapasse en mode sud-américain avec d'excellents kibes brésiliens à la viande. C'est aussi l'occasion pour Jésus la Cap-Verdienne de montrer que, rayon cocktails, avec son capital Péché (tequila, gingembre frais, citron vert, sirop de sucre de canne), elle pile comme à Praia. Douce Jésus!
En savoir plus sur http://www.lexpress.fr/styles/saveurs/restaurant/le-restaurant-jesus-paradis-a-paris_1285543.html#j1ZDgyrJrgfSWu67.99
ABOUT  A MAN CALLED ADAM :
Steve has an MSc in Sound Design from the University of Edinburgh and Sally has an M.Litt from the University of St Andrews, where she continues to conduct doctoral research into the historical impact of technology on modern poetics. Their enduring collaboration includes many licensed works and their recordings, under the artist name A Man Called Adam, are popular with electronic music fans around the world.
As sound designers they have a reputation for delivering high quality compositions and gallery enabling sound for a diverse range of clients including The British Museum, Johnson Banks, The Burns Group, Clay Interactive and The BME. In performance they are currently experimenting with a concept using installation technology, which they loosely describe as 'talking with spaces'. Improvising with the sounds of the space they're in, and generating new sound, from recitation to the hidden sounds of obsolete technologies, they use real-time processing to create a unique audible discourse.
 A Man Called Adam From Wikipedia, the free encyclopedia
This article is about the musical group. For the 1966 film starring Sammy Davis, Jr., see A Man Called Adam (film).
This article needs additional citations for verification. Please help improve this article by adding citations to reliable sources. Unsourced material may be challenged and removed. (March 2011)
A Man Called Adam (sometimes abbreviated to AMCA) are the British electronic music artists Sally Rodgers and Steve Jones. Although chart success eluded the band, they are regarded[by whom?] as pivotal in the development of the electronic music genres, acid jazz and Balearic House.[citation needed].
HistoryRecording for DJ Gilles Peterson's fledgling Acid Jazz Records label, A Man Called Adam found that it was the remixed B-sides, « Techno Powers » and « Amoeba » – electronic versions of the A-side tracks, that became cult records, bridging the divide between the jazz, rare groove and acid house scenes.[citation needed]
AMCA later moved to Big Life Records and released « Barefoot In the Head ». Produced by Sally Rodgers, Steve Jones, Paul Daley and sound engineer Mat Clark, the track features choral pads and strings coupled with bouncing Roland 909 and 727 rhythm tracks. For the lyrics Rodgers cribbed the pagan poetry translations of Robert Graves, and explored her own experiments with ecstasy.[citation needed] The track peaked at #60 in the UK Singles Chart in October 1990.[1]
The Channel 4 documentary A Short film about Chillin' featured the band along with The Farm, DJs Andrew Weatherall, Danny Rampling, Terry Farley and Rocky and Diesel, and charted their journey to Ibiza with club promoter Charlie Chester, and a couple of hundred British ravers on the first organized clubbing holiday of its kind. The vocal sample, of American actor Rod McKuen intoning 'I put a seashell to my ear' to the sound of waves lapping the shore, meant the track would ever be associated with sun-drenched beaches and the term 'Balearic House' came into use.[citation needed]
Around the same time, Paul Daley left the band to form Leftfield, leaving AMCA as a duo of Rodgers and Jones, who went on to release their debut album The Apple in 1991. Following the release of several singles from the LP (« I Want To Know », « The Chrono Psionic Interface » and « Bread, Love And Dreams »), A Man Called Adam left Big Life to set up their own label, Other Records.
Through the mid-1990s, A Man Called Adam released several singles and contributed to The Café del Mar series of compilation albums, as well as creating a side project, Beachflea, which released the album What's That Smell?.
The second A Man Called Adam album, Duende, was released in 1998 and included the singles « Easter Song », « Que Tal America » and « All My Favourite People ». It also featured the song « Estelle », which though never released as a single, was included on numerous compilations.
A third A Man Called Adam album, All My Favourite…, was released in 2004 and featured a selection of songs from the two previous albums alongside several new songs. It also included an acoustic version of their signature song, « Barefoot In The Head », which was released as a single.
These days[when?] Rodgers is conducting doctoral research in modern poetics at the University of St Andrews and Jones recently gained an MSc in sound design from the University of Edinburgh. Together they continue to work as sound designers on museum, film and theatrical commissions, notably the BME (British Music Experience) – a museum charting the history of British music from the end of World War II, and The British Museum's major new exhibition Journey to the afterlife: The Egyptian Book of the Dead. Their music continues to be licensed all over the world for film, television and release.
Reflecting a growing interest in avant-garde and art music, Rodgers and Jones are now working together as Discrete Machines, under which name they released an EP in 2012.
Their song « Yachts » is used in commercials for Yellow Tail wine.
Discography
The Apple (1991, Big Life)
Duende (1998, Other Records)
All My Favourite… (2004, Other Records)
A Man Called Adam: Collected Works Volume One (2010, Other Records)
A Man Called Adam: Collected Works Volume Two (2010, Other Records)
About Patrick Vidal… (Source : Djoon, Soulful Club Paris, http://www.djoon.com/3019/about-patrick-vidal.html)

Chanteur et guitariste au sein de Marie et les Garcons, premiers groupe de la vague punk/new wave 77.
Signature sur rebel records, le tout neuf label de michel esteban et sortie du 1er single. Le second single (mars 78) est enregistré à New York avec John Cale (Velvet Underground) à la production. Dans la foulée le groupe joue au club rock mythique de New York : CBGB et enchaîne avec une tournée française avec patti smith et les talking heads.
Michel Esteban monte Ze Records et Marie et les Garcons devenu Garçons enregistre leur 1er album au Blank Tapes Studio à New York avec la crème de la scène Disco/Nu wave en 1981. Cristine Wiltshire, chanteuse de Musique et Class Action, Carlos Franzetti, arrangeur de Kid Creole, la cultissime section de violons de Salsoul, et Tom Savarese, l'ingénieur du son de Chic, comptent parmi les intervenants de l'album disco des Garçons. Cet album n'a pas eu la même destinée que celui des autres productions françaises disco, et est un album important à découvrir.
Nouvelle tournée en 79 avec concert au Palace. L'album se classe au Bilboard, mais le groupe se sépare l'année suivante. Patrick part vivre à New York et retour en France 2 ans plus tard. Patrick intègre le groupe Octobre au chant. Sortie de l'album Paolino Parc chez Emi et tournée qui s'achève en 1ere partie de David Bowie à Auteuil (Serious Moonlight Tour). Après Octobre, sortie d'un album solo chez New Rose et rééditions de bandes live de Marie et les Garcons .
Parallèlement, la collaboration avec Christophe Monier (Micronauts) sous le nom de Diszcotique donne Sexe, premier single signé chez Rave Age Records en 1989 : ce disque est le premier disque techno français paru en France.
Discotique fait partie aussi de la compilation Respect For France paru en 1991, et qui proposait un premier panorama de la scène house française alors naissante.
La collaboration Vidal/Monier dure encore 2 ans et les demos rejetées par les labels français sortent finalement chez Other Records à Londres. Cette signature impose le réédition de l'album Disco des Garcons remixée par la scène nu-house (idjut boys/rob mello/ a man called adam) en 1996, puis l'album sort sous le nom de Sutra en co-production avec Mirwais en 1997. Le projet électronique Sutra avec Thomas Bourdeau continue et un album resté inédit verra le jour en 2003 dans la compil du magazine TETU. Sortie chez QUATTERMASS de ROCKERS DELIGHT avec des inédits de SUTRA, DISCOTIQUE et PATRICK VIDAL.
Patrick Vidal Dj
De 1983 à 1985 : residence aux bains douches
De 1986 à 1988 : création des premiers after de paris, les kit-kat du privilege
De 1989 à 1990 : résident au Power Station avec Laurent Garnier, Thierry Perdereau et dj Deep
De 1991 à 1992 : résident à la Casbah
1992 : Organisation avec T.Perdereau et C.Vix de la Yes Party, 1ère Soirée Garage A Paris avec David Morales, Tony Humphries et Robert Owens
De 1993 à 1997 : creation des soirees semi shade, concept melangeant house music et lectures d'urban poetry avec jenny bel'air, la bourette etc. a lili la tigresse et au comptoir.debut des Tgv de S.Chataignier a l'Elysee Monmartre avec dj Andre.
De 1997 à 2000 : residence a londres, substation south, bar rumba, heaven, plusieurs respect dont une au living room a miami, a paris le tresor, la fabrique, le cafe oz, le pulp, le rex, la fleche d 'or…
2000 – 2001 : résident du Têtu tour a travers la France et l'Europe.
Cafe del mar, Pacha playa et Chillenium a Ibiza nuit lacoste au georges a beaubourg
2003 – 2004 : Organisation et dj resident des soirees Monoculture à la Maroquinerie tous les mois (djs invites/tasty tim,mark moore,dixon,luke howard,nick v) + invite regulier de Eyes need sugar /Guys and Dolls/Otra otra/Respect/de la house/Monarchik
Sound designer
Défilés : Ron Orb / T.Mugler/ Bill Tornade / C.Pierlot
Musique en magasin : Habitat / Celio / Springfield / Muji / Galeries Lafayette / Women Secret
Musique pour le théâtre :
– Commentaire D'Amour et Baron au Tristan Bernard
– Le Jour du Destin au Theatre Montparnasse
– Directeur artistique de yepp-party.com site spécialisé en achat de musique électronique pour Samsung 2000 à 2003
Compilations artiste et selector
1996 : love trip (atmospherique) selector
1997 : future latino (island) selector
2001 : yepparty (ulm) selector
2002 : jazzy sexy soul (warner) selector
2003 : reves 2 titres de sutra
2003 : rockers delight (quattermass) 8 titres,sutra,p.vidal,discotique
2003 : les annees punks 2 titres de marie et les garcons
2003 : tetu vol1. (naive) selector
2003 : mutant disco (ze records) 4 titres des garcons
Discographie
Avec Marie et les Garçons
Singles :
"Rien à dire" – Rebel Records 1977.
"Re-Bop" – Spy records (produit par J. Cale des Velvet Underground).
"Attitudes / Rien à dire" – ZE Records 1978.
Albums : 1 titre dans "Rock d'ici à l'Olympia" avec Stinky Toys, electric Callas, etc…
Album "Marie et les Garçons" – Celluloïd 1980. (1face d'inédits + 1 face live).
Album "1976/1977″ – New Rose 1990. (CD d'inédits et live au CBGB à New-York).
Avec les garçons
Albums :
"Divorce 1979″, enregistré à NYC avec les musiciens de Salsoul, les choristes de Musique et Class Action, le mixeur de Chic – ZE Records.
Singles :
"French Boy" – ZE Records 1979.
"Re-Bop electronique" – ZE Records 1979.
Avec Octobre
Albums : "Paolino Parc" – EMI 1983.
Singles : "Masculin/ Féminin" – EMI 1983.
Avec Senso
Single : "L'Océan", produit par Adam Williams (Eurythmics, Silencers) – EMI 1985.
Avec Dicotique
Single : "Sexe" – Rave Age Records 1989.
Album : "Love Dub" dans la compilation Respect for France – FNAC music 1991.
Album solo : "Histoires d'aventures" – New Rose 1990.
Compilations : "Latin House" – Island 1995 // "Love trip" – Athmosphériques 1997 (label Trip-Hop allemand).
Ressortie de l'album des Garçons en 1997, chez Other Records, avec des remixes de Idjut Boys, A man called Adam, dj D, Roberto Mello.
Single : "French Boys" (A Man Czlled Adam remix + Idjut Boys).
Avec Sutra
Albums :
1 titre "Landing" dans Other Stuff 1 – Other Records 1997.
1 titre "Landinf" dans What's Up 3 – Mix it 1997.
"Suicide Sutra" : l'album – Other Records 1998.
1 titre "DJ" dans Trainspotting – V2 1998.
1 titre "Dog Food" dans Other Stuff 2 – Other Records 1998.
1 titre "La brûlure du bruit" dans Other Stuff 3 – Other records 1998.
Singles :
"Tricky Situation" remix de Roberto Mello – Other Records 1998.
"Dog Food" remix des Superstars of Rock – Other Records 1998.
The Volatile